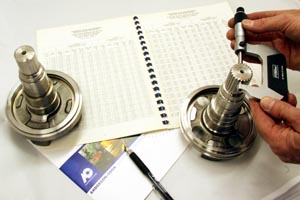 Spline rolling is a vital, robust process. A properly setup Anderson-Cook spline-rolling machine offers years of service and can be used to roll millions of quality parts. Proper setup is paramount to part quality, and machine/tool longevity. Anderson-Cook will deliver our experience to your personnel.
Anderson-Cook Field Technicians have both the knowledge base and, just as important, the teaching experience to properly educate your personnel. Proper, thorough training for your set-up, operator, and maintenance personnel translates into more up-time, better parts, and fewer headaches.
Anderson-Cook service technicians will, and have, happily assisted in making the competition's machines produce better results.
Hands-on training, at your facility, will cover:
Machine Set-Up: centers, daylight opening, heel blocks, and backlash
Tooling Changeover: rack and spacer installation and removal
Part Quality check: part geometry assessment
Machine Maintenance: coolant, lubrication, and hydraulic levels and filters
Trouble-Shooting: spot and solve problems
Please contact us with any questions regarding spline rolling.