Anderson-Cook Accessories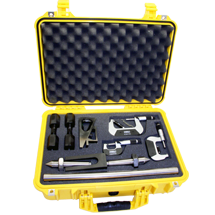 Durable Tooling
machine tool accessories Centers, work holding brackets, and forming rack spacers may be ordered to allow for different part geometries to be rolled, or to account for normal wear and tear or breakage. Contact Anderson-Cook with specific part and machine requirements.
Replacement Parts
Anderson-Cook stocks many standard machine replacement parts. The loss or damage of rack bolts, pusher screws, etc., need not result in prolonged down-time. Anderson-Cook will gladly supply replacement parts with the shortest possible lead-time.
Upgrades
A change in your production parameters may necessitate the addition of certain machine modules. Upgrades include linear scales for loaders, air conditioning, air blow-off, and minimum quantity lube systems, to name a few. As always, Anderson-Cook is eager to assess your needs and provide solutions.
Click thumbnail to enlarge
Please contact us with any questions regarding spline rolling.