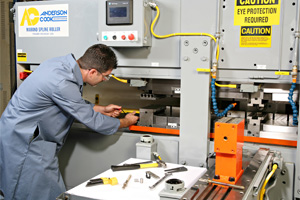 Anderson-Cook employs a field service Anderson-Cook employs a full-time service department. Our field technicians literally travel the globe every year, addressing issues, and resolving problems, on nearly every continent. Anderson-Cook will deliver a field technician to your location to examine, evaluate, recalibrate, or fix your equipment as required. The same high standards are adhered to when we use our expertise to assess and repair our competitor's machines, tools, and setups.
No other manufacturer combines the quality of service, and breadth of experience, offered by Anderson-Cook.
PleasPlease contact us with any questions regarding spline rolling.