Anderson-Cook's Remanufactured Machines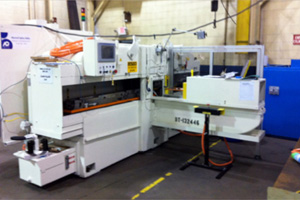 Customers who own a machine that no longer performs up to specification can consider the cost efficiency of an Anderson-Cook remanufacture. A complete Anderson-Cook rebuild is, technically and accurately, a remanufacture of that machine to "as new" specifications and performance. The inherent strength of a machine's casting allows for re-use, and re-use may be preferred over re-purchase, with considerable savings compared to the price of a new machine.
Concerned with the robustness of a machine or the quality of the remanufacture? Consider the history of Anderson-Cook's very first machine. Built in 1971 it rolled millions of parts before returning in 1995 for a remanufacture. Millions of parts later the same machine returned in 2012 for a second remanufacture. Pictured below: our first machine, ready to be shipped back to our customer, ready to roll millions more parts.
Keep in mind that we gladly remanufacture any brand of spline rolling machines.
Click thumbnail to enlarge
Please contact us with any questions regarding spline rolling.